Suspension & Syrup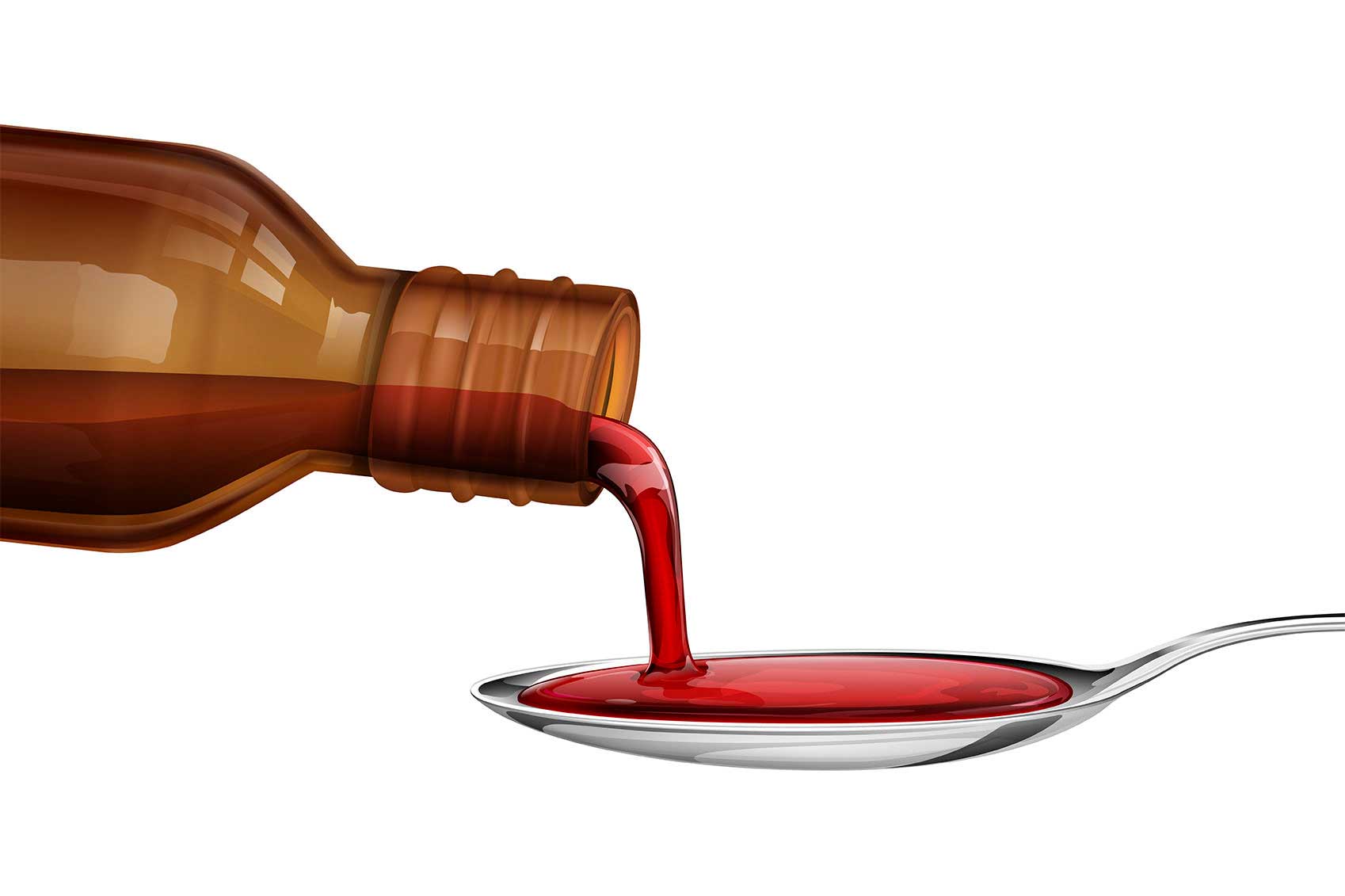 There are two main types of liquid formulations used as medication: solution and suspension (and variations of each). When you say syrup, I assume you mean a solution. In a solution, the solute is completely dissolved when the medication is administered. In a suspension, the solute is not completely dissolves. Thus, in a suspension there are particles which are unevenly distributed. A suspension could be a means to provide a higher dose of a medication than could be completely dissolved into solution. The only real difference in administering these medications is that you must shake a suspension to evenly distribute the product before administering, but you do not need to shake a solution because the product is already evenly distributed due to being dissolved in the solvent (though there are suspensions with other ingredients to suspend the particles more evenly). Most products over the counter are solutions and the main suspensions utilized are various liquid form antibiotics used for children which must be mixed prior to sale.
There are subcategories of these, such as an "elixer" which is a solution that typically contains ethyl alcohol or an emulsion, which is a suspension with two liquids that are not soluble with each other. An emulsion would be like a salad dressing with oil and vinegar which separates out and must be shaken vigorously. Typically, a pharmaceutical emulsion is stabilized with an "emulsifier" that helps to suspend the liquid droplets within the other liquid.
We have wide range of Suspension & Syrup for various disease.
---
Suspension & Syrup
| #SL NO. | COMPOSITION | PACKING | TYPE | VIEW DETAILS |
| --- | --- | --- | --- | --- |
| 1 | Activated Dimethicone IP 50 mg Magnesium Hydroxide IP 250 mg Dried Aluminium Hydroxide IP 250 mg | 170ml (With Carton) | Antacid | Detail |
| 2 | Elemental Iron (Carbonyl Iron) 50 mg Folic Acid 500 mcg B12 7.5 mcg El. Zinc as Zinc Gluconate 5 mg Syrup | 200 ml | Hematology | Detail |
| 3 | Ferrous Ascorbate 100 mg Folic Acid 1.5 mg Zinc 61.8 mg Syrup | 200 ml | Hematology | Detail |
| 4 | Ferric Ammonium Citrate 110 mg Folic Acid 1.5 mg Cyanocobalamin 15 mcg Sorbitol Sol Q.S. Syrup | 200 ml | Hematology | Detail |
| 5 | Calcium Carbonate 250 mg Vitamin D3 400 I.U Zinc 7.5 mg Syrup | 10x10 (Blister) | Orthopedic | Detail |
| 6 | Ofloxacin 50 mg Ornidazole 125 mg Syrup | 30 ml/60 ml | Antibiotic & Antifungal | Detail |
| 7 | Ambroxol 30 mg Levosalbutamol 1 mg Guaiphenesin 50 mg Syrup | 100 ml | Anticold & Anti-Cough | Detail |
| 8 | Ambroxol HCL 15 mg Chlorpheniramine Maleate 2 mg Phenynylephrine HCL 2.5 mg Guaiphenesine 50 mg Menthol 1 mg Syrup | 100 ml / 60 ml | Anticold & Anti-Cough | Detail |
| 9 | Ambroxol 15 mg Terbutaline 1.25 mg Guaiphenesine 50 mg Menthol 1 mg Syrup | 100 ml | Anticold & Anti-Cough | Detail |
| 10 | Paracetamol 125 mg Mefenamic Acid 50mg Syrup | 60 ml | Anticold & Anti-Cough | Detail |
| 11 | Lycopene with Multivitamins & Multiminerals Syrup | 200 ml | Nutrition & Health Supplement | Detail |
| 12 | Phenylepherine HCL 2.5 mg Chlorpheniramine Maleate 2 mg Paracetamol 125 mg Syrup | 100 ml | Anticold & Anti-Cough | Detail |
| 13 | Antioxidant with Multivitamins & Multiminerals Syrup | 200 ml | Nutrition & Health Supplement | Detail |
| 14 | Dextromethorphan HBR 10 mg Chlorpheniramine Maleate 2mg Phenylephrine HCL 5 mg Syrup | 100 ml | Anticold & Anti-Cough | Detail |
| 15 | B complex with L-lysine Syrup | 200 ml | Nutrition & Health Supplement | Detail |
| 16 | Oxethazaine 10 mg Dried Aluminium Hydroxide Gel 0.291 mg Magnesium Hydroxide 98 mg Sorbitol Base Suspension | 170 ml | Antacid | Detail |
| 17 | Salbutamol 1 mg Bromhexine 2 mg Choline Theophylline 50 mg Syrup | 100 ml | Anticold & Anti-Cough | Detail |
| 18 | Diphenhydramine 14.08 mg Ammonium Chloride 0.138 mg Sodium Citrate 57.03 mg Menthol 1.14 mg Syrup | 100 ml | Anticold & Anti-Cough | Detail |
| 19 | Phenylepherine 2.5 mg Cetirizine 2 mg Paracetamol 125 mg Syrup | 100 ml | Anticold & Anti-Cough | Detail |
| 20 | Magaldrate 480 mg Simethicone 20 mg (Sugar-Free) Suspension | 170 ml | Antacid | Detail |
| 21 | Sucralfate 1 gm Oxetacaine 20 mg Suspension | 100 ml / 200 ml | Gastroenterology | Detail |
| 22 | Sucralfate 1 gm Suspension | 200 ml | Gastroenterology | Detail |
| 23 | Levocetirizine Dihydrochloride IP 2.5 mg Montelukast 4 mg Syrup | 60 ml | Antihistamine & Anti Asthmatic | Detail |
| 24 | Tricholine Citrate 275 Mg Sorbitol 70 Q.S Syrup | 200 ml | Hepatology | Detail |
| 25 | Disodium Hydrogen Citrate 1.25 Mg per 5 ml Syrup | 100 ml | Urology | Detail |
| 26 | Lactulose Oral Solution 10gm Syrup | 100 ml & 200 ml with Cartoon | laxative | Detail |
| 27 | Zinc Gluconate 20 mg Syrup | 30ml | Nutrition & Health Supplement | Detail |